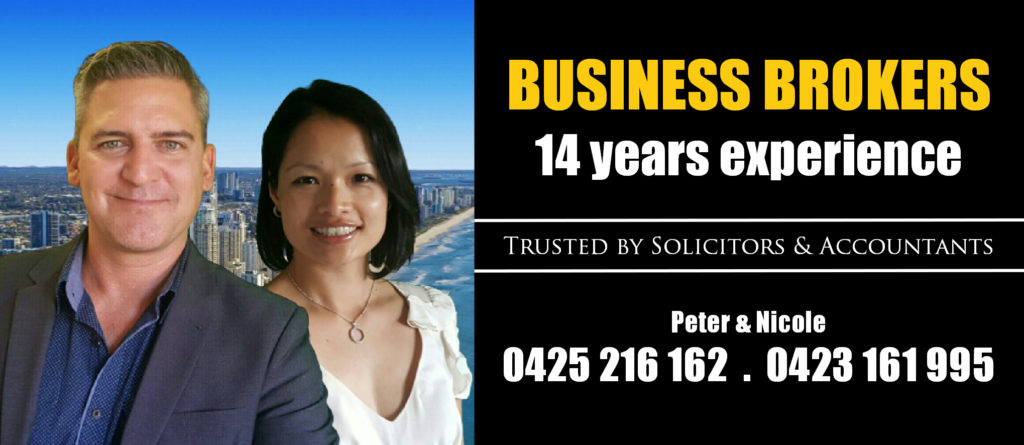 Suite 30904, Level 9, Southport Central Tower 3, 9 Lawson Street, Southport QLD 4215
25 Lawson Street
Southport
Queensland
4215
AU
BEST Business Brokers on the Gold Coast! If your price is out there, we'll get it! Better business sales results also makes us the CHEAPEST Business Brokers on the Gold Coast!
We can link businesses to over 400,000 buyers and make it look easy! Trusted by sellers, buyers, solicitors and accountants since 2004, we ARE the benchmark when it comes to getting results.
What makes us different is that we actively work with Accountants, Consultancy Firms and Buyer's Agents to match premium Buyers and Sellers that aren't necessarily in the mainstream. Website advertising casts the net out wide but targeted campaigning behind closed doors can find those high wealth investors!
So, if the sky's the limit, that's where we're heading!
THE HALLMARK OF BUSINESS SALES
Did we say we make it look easy?! Yes, we did!
We're always HUNGRY to make deals happen! This means fishing through current businesses, casting for fresh businesses, invigorating past buyers, and reeling in fresh ones; constantly, diligently, relentlessly refreshing, updating, scouring and working our database for a match! Sitting back and waiting to react to an online advertisement that's plummeting at the rate of 100 pages a day is "old school" and doesn't work…well actually…it might, but you'd have to get lucky!
The secret to selling a business is putting in the HARD WORK!
To get the highest possible price for your business sale comes down to skill, experience, and determination; and we have the combined power of 40 years! Almost anyone can advertise their business for sale online whether it be on gumtree, seekbusiness, business2sell, domain, ebay or businessesforsale; and almost anyone can get a buyer in front of you, but it's the years of successful business sales that can get you the better sales results! You're the master of your own business, and we're the master of ours.
So, if you're seriously ready to sell your business in QLD or northern NSW, don't risk thousands of dollars on donkeys and cowboys. This will take a full commitment from both of us! We're ready, when you're ready so jump on board and give us a call!
Peter Iffland 0425 216 162 peter@businessforsaleqld.com.au
Kerri Maher 0416 013 911 kerri@businessforsaleqld.com.au
Nicole Nguyen-Iffland 0423 161 995 nicole@businessforsaleqld.com.au
---
Opening Hours
| | |
| --- | --- |
| Monday | 12:00 am - 11:55 pm |
| Tuesday | 12:00 am - 11:55 pm |
| Wednesday | 12:00 am - 11:55 pm |
| Thursday | 12:00 am - 11:55 pm |
| Friday | 12:00 am - 11:55 pm |
| Saturday | 12:00 am - 11:55 pm |
| Sunday | 12:00 am - 11:55 pm |